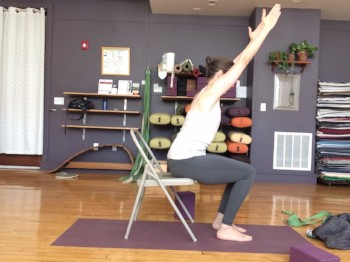 Adapting Asana : Using a chair to safely teach students with injury and illness.
Saturday, May 13th 1-3 PM
Yoga on the Hill - Kittery, ME
Erin Ehlers, Yoga Teacher E-RYT 500 and Yoga Therapist C-IAYT
---
PAST EVENTS
SATYA ISS:  Mindful Yoga Therapy, October 14, 2016
SATYA ISS:  Trauma Sensitive Yoga August 15, 2016
SATYA ISS:  Yoga and Sobriety May 12, 2016
SATYA ISS:  Making Yoga Accessible for Students with Obesity November 7, 2015
SATYA ISS: Yoga and Cancer Workshop for Teachers May 3, 2015
SATYA ISS: Trauma on the Mat:  Meeting our Students with Compassion March 13, 2015
SATYA ISS: PTSD Insight for the Yoga Instructor
SATYA ISS: Yoga for the Incarcerated December 6, 2014
SATYA ISS: Trauma, Yoga and Healing-A Path to Inner Peace January 24, 2014
SATYA ISS:  Osteoporosis and Osteopenia Student Risks. Teacher Modifications September 18, 2013
Informational Sharing Session Submission
Do you have tools to share? We want to know! Please provide a detailed description of your workshop/idea/concept to be considered for development into an I.S.S. hosted by SATYA.