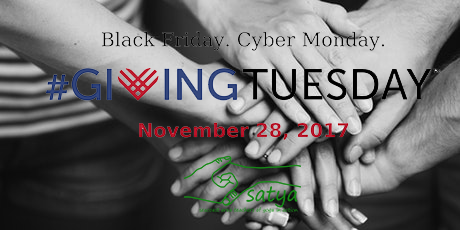 You've heard of Black Friday. You've heard of Cyber Monday. But have you heard of Giving Tuesday?? Make your dollars go further this holiday season by donating to SATYA - Seacoast Area Teachers of Yoga in Action on Tuesday, November 28th, 2017.
Celebrated on the Tuesday following Thanksgiving (in the U.S.) and the widely recognized shopping events Black Friday and Cyber Monday, #GivingTuesday kicks off the charitable season, when many focus on their holiday and end-of-year giving. Since its inaugural year in 2012, #GivingTuesday has become a movement that celebrates and supports giving and philanthropy with events throughout the year and a growing catalog of resources.
$ 2,000 funds one class for an entire year! Please consider donating to SATYA this year, as our organization touches many populations in need.